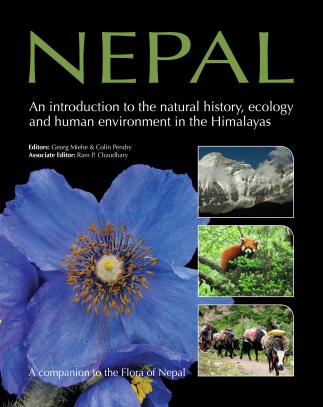 The Himalayas are Earth's greatest mountain range. They include its highest peaks, and have profound effects on Asia's climate, biodiversity and human cultures.

Nepal is a microcosm for the Himalayas and this is the definitive account of the country's environment. It includes contributions from more than forty international experts describing the region's geology, geomorphology, hydrology, climate, soils, evolutionary biology, ecology, palynology, ethnobotany, anthropology and conservation.

This newly published review is a companion volume to the Flora of Nepal. It is a statement of our current understanding of the region which presents new data and new perspectives, and highlights the gaps in our knowledge that require further research. It is heavily referenced throughout, and will act as a source book for environmental researchers working in Nepal and its neighbouring countries.

The publication of Nepal: An Introduction to the natural history, ecology and human environment of the Himalayas is the direct culmination of four years of work, but it is built on the four-decade career of the first editor, Georg Miehe, one of today's leading authorities on the ecology of the Himalayas. The forty six other authors who have contributed to the book represent many of the world's foremost experts on the Himalayas.

The book includes a wealth of stunning pictures and although it is primarily written for a professional audience, it will have wider appeal to others with an interest in the region.

Full colour, hardback (576 pages)
ISBN 978-1-910877-02-9
Download a sample chapter (pdf) for free.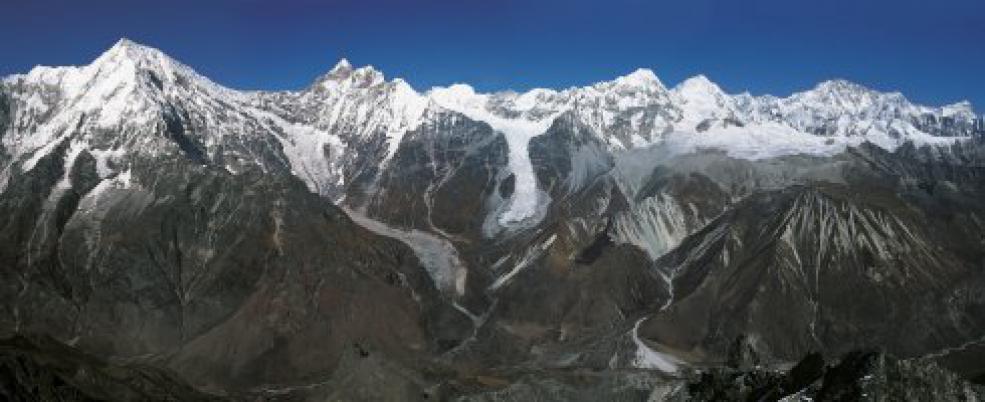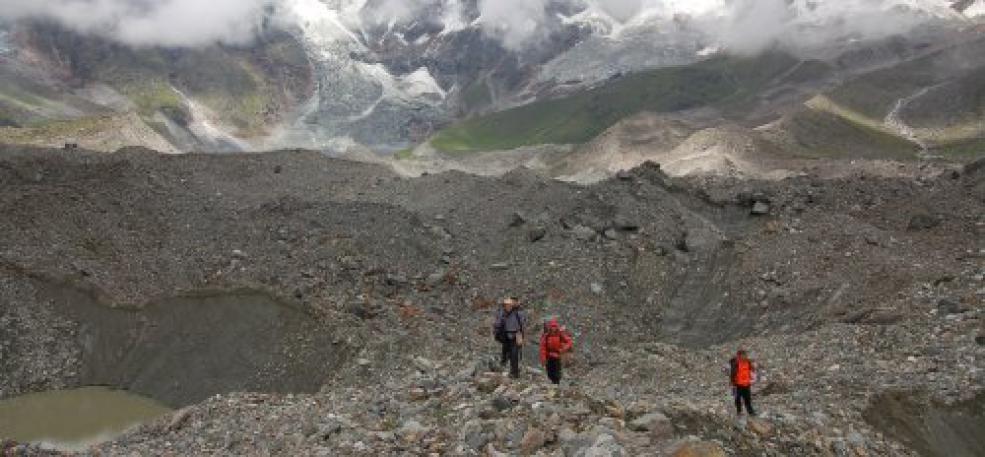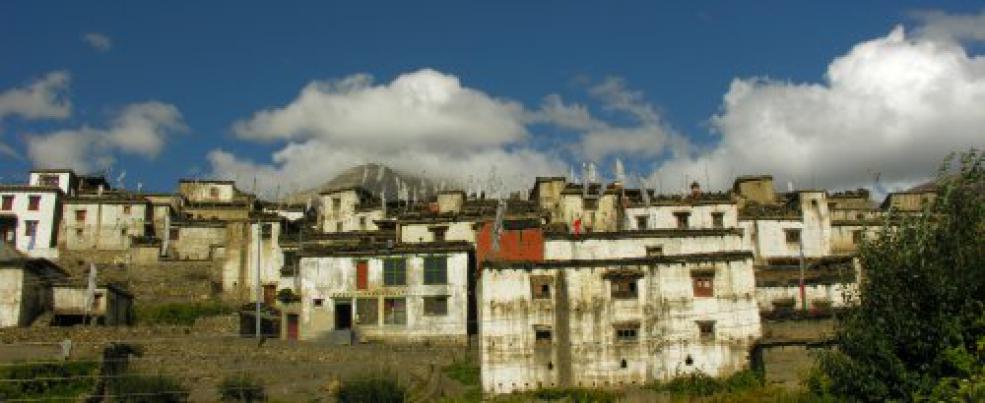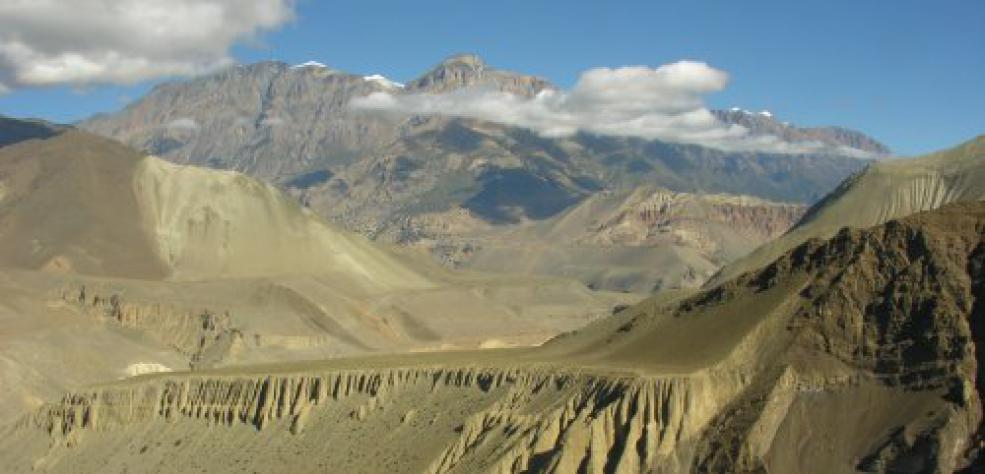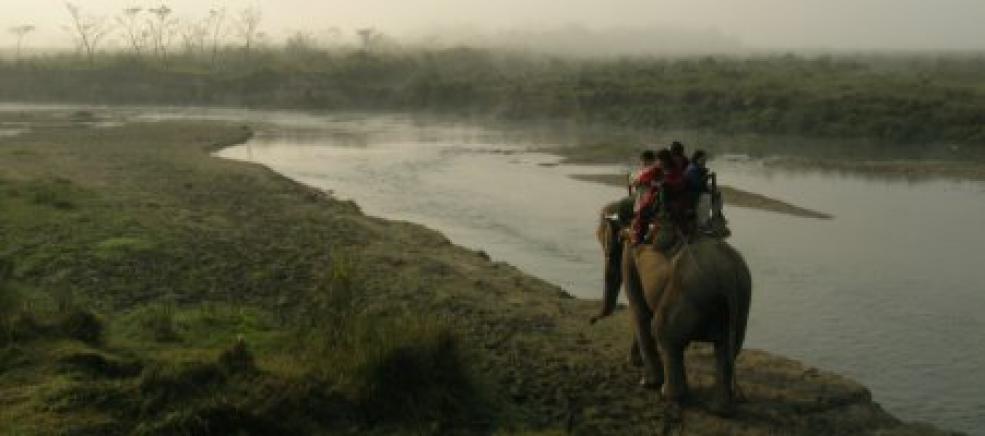 Regional Setting: Nepal in the Himalayas (Chapter 1; Georg Miehe and Narendra Raj Khanal) briefly discusses Nepal in relation to its surrounding regions and introduces its major climatic and geographical divisions.

Landscapes of Nepal (Chapter 2; Georg Miehe) focusses on the diversity of its regions. These range from the tropical lowlands of the Tarai to the temperate forests of the southern face of the Himalayas, the alpine regions and the dry rain-shadow areas to their north.

Geology (Chapter 3; Mike Searle) discusses Nepal's geology and the tectonic history which has created its dramatic geomorphology.

Climate and Weather (Chapter 4; Jürgen Böhner, Georg Miehe, Sabine Miehe and Laszlo Nagy) describes Nepal's climate and models its temperatures and rainfall to a level of detail not previously seen. The account of daily weather measurements in Langtang and Helambu over a nine month period describes Himalayan weather at an unprecedented level of detail. Climate change poses clear threats to the region and the evidence for current climate change and future scenarios is assessed. The final section describes plant successions on land exposed by retreating glaciers.

Hydrology (Chapter 5; Markus Konz, Nadine Konz, Ludwig Braun, Marcus Nüsser) describes the relationship between Nepal's rivers, lakes and glaciers and climate. This is of relevance not only to Nepal, but also to the wider region whose water supply derives from the Himalayas.

Himalayan Landforms and Processes (Chapter 6; Georg Miehe and Johannes T. Weidinger) opens with a discussion of slope stability and its links to plant speciation. It goes on to discuss three processes which can lead to major disturbances in the landscape; earthquakes, giant rockslides and river captures. The rest of the chapter is devoted to the landforms which characterize the different zones, and the processes which have created them, including erosion, incision of river valleys and glaciation.

Soils (Chapter 7; Rupert Bäumler) describes Nepal's main soil types, their properties and their distribution across the country. The degradation of Himalayan soils is a controversial subject which is discussed in the final section.

Flora (Chapter 8; Georg Miehe, Erik Welk, Jürgen Kluge, Colin A. Pendry, Mark F. Watson, Keshab R. Rajbhandari, Joachim Schmidt, Lars Opgenoorth, Sangeeta Rajhandary, David G. Long, Ulrik Søchting, Patrick Kuss, Richard Ree, Barbara Gravendeel and Abishkar Subedi) opens with the history of botanical exploration in Nepal. It describes Nepal's phytogeographical links before analysing contemporary distribution patterns. An important theme is how these patterns were affected by the Himalayan uplift and the Quaternary climatic changes. Migration, dispersal, isolation and in-situ speciation are key issues for the natural history of the Himalayas. The chapter continues with accounts of pteridophytes, bryophytes and lichens, looking at their diversity, ecological significance and the history of their exploration in Nepal. The final section of the chapter covers two case studies of pollination of Nepalese plants.


Mycota (Chapter 9; Gerhard Kost and Mahesh Kumar Adhikari) examines Nepal's fungi, describing their diversity, ecological importance and discussing the paucity of research on this neglected kingdom.

Fauna (Chapter 10; Jochen Martens) takes a different approach, and describes not the natural history of Nepal's animals, but instead the speciation processes which have created the diversity we see today. These speciation models are illustrated by range of organisms including beetles, spiders, frogs and birds.

People (Chapter 11; Martin Gaenszle, Mark Turin, Will Tuladhar-Douglas, Ram B. Chhetri) shifts our focus onto Nepal's ethnic diversity and the languages, economy, social order and religion of its major ethnic groups. In the last century Nepal has undergone massive social, economic and political changes and their environmental impacts are considered here.

Ethnobotany (Chapter 12; Sangeeta Rajbhandary and Daniel Winkler) looks at the interactions between people and plants. It describes the central role that plants continue to play in economic and cultural activities throughout Nepal.

Land Use (Chapter 13; Dietrich Schmidt-Vogt, Georg Miehe) describes the impact of agriculture, pastoralism and forestry on contemporary landscapes in the country's different regions. It discusses how geopolitical events affect land use, even in the country's most remote regions.

Environmental History (Chapter 14; Georg Miehe, Roland Zech, George van Driem, Stephen Blackmore, Khum Paudayal, Rie Fujii) discusses the changes in Nepal's landscapes from the Ice Ages to historical times. It details the effects of global climate fluctuations and in increasing human population. The true age and extent of the Himalayan Anthropocene is still uncertain and knowledge about the migration of humans into the Himalayas remains fragmentary. Linguistic analysis combined with genetic data offers another means to understand this process, and is introduced here.

Ecological Transects (Chapter 15; Georg Miehe) integrates the work of the preceding chapters. It describes the vegetation of three regions in terms of their primary ecological factors and the anthropogenic impacts on these landscapes.

Vegetation Ecology (Chapter 16; Georg Miehe, Sabine Miehe, Jürgen Böhner, Rupert Bäumler, Suresh K. Ghimire, Khem Bhattarai, Ram P. Chaudhary, Mahendra Subedi, Pramod K. Jha and Colin A. Pendry) presents a new account of Nepal's vegetation types. It combines descriptions of the vegetation with detailed climatic and soil data, human impacts and their phytogeographical links.

Conservation (Chapter 17; Siddhartha Bajra Bajracharya, Ram Prasad Chaudhary, Govinda Basnet) looks at the history of conservation in Nepal. Although Nepal has been at the forefront of some developments in conservation, it faces increasing threats from it growing human population, climate change, illegal trade and invasive plant species.

Georg Miehe is the Professor of Biogeography and Mountain Ecology at the Philipps University Marburg. Since 1976 he has worked in the Himalayas annually, visiting localities from the north of Pakistan and the Karakorum to Nepal, Bhutan, northwest Myanmar, Yunnan and the Tibetan Plateau, studying plant distributions, vegetation communities and ecology. His particular interest is in the human impact on high altitude ecosystems and the age of the Anthropocene in mountain areas. Landmark publications include monographs on the ecology of the Dhaulagiri and Annapurna Himalaya (1982), the Khumbu Himal (1991) and the Langtang Himal (1990).
Colin Pendry is an Editor on the Flora of Nepal and is based at the Royal Botanic Garden Edinburgh. His background is in ecology, but over the last 20 years has worked as a taxonomist, studying plants from SE Asia and Latin America. Nepal has been his focus since 2004, and since then he has coordinated the publication of one volume of the Flora of Nepal and been on eight major plant collecting expeditions, with a particular emphasis on remote areas of western Nepal.

Ram Chaudhary is a Professor of Botany at Tribhuvan University, Nepal and he has studied the Himalayas since 1978. Trained in plant systematics, his diverse research areas include floristics, conservation biology, ethnobotany, biodiversity assessment, landscape conservation and development, palynology, climate change and livelihoods. He has received several awards, including the National Conservation Award 2015 from the Ministry of Forests and Soil Conservation, Government of Nepal.
Mahesh Kumar Adhikari
Ex Department of Plants Resources, PO Box 21758, Kathmandu, Nepal

Siddhartha Bajra Bajracharya
National Trust for Nature Conservation, Khumaltar, Lalitpur, P. O Box 3712, Nepal

Govinda Basnet
PO Box 24043, Kathmandu, Nepal

Rupert Bäumler
Institut für Geographie der Friedrich-Alexander Universität Erlangen-Nürnberg, Wetterkreuz 15, D-91058 Erlangen, Germany

Khem Bhattarai
Ex Department of Plants Resources, Kathmandu, Nepal

Stephen Blackmore
Botanic Gardens Conservation International, Descanso House, 199 Kew Road, Richmond, Surrey, TW9 3BW, UK

Jürgen Böhner
Chair of Physical Geography - University of Hamburg, CEN Center for Earth System Research and Sustainability, Bundesstrasse 55, D-20146 Hamburg, Germany

Ludwig Braun
Kommission für Erdmessung und Glaziologie, Bayerische Akademie der Wissenschaften, Alfons-Goppel-Strasse 11, D-80539 München, Germany

Ram Chaudhary
Research Centre for Applied Science and Technology, Tribhuvan University, Kathmandu, Nepal

Ram B. Chhetri
Central Department of Sociology/Anthropology, Tribhuvan University, Kathmandu, Nepal

Georg van Driem
Institut für Sprachwissenschaft, Universität Bern, Länggassstrasse 49, CH 3000 Bern 9, Switzerland

Rie Fujii
Kyoto University, Japan

Martin Gaenszle
Institut für Südasien-, Tibet- und Buddhismuskunde, Bereich Südasienkunde, Uni-Campus AAKh, Hof 2.1, Spitalgasse 2-4, A-1090 Wien, Austria

Suresh Kumar Ghimire
Central Department of Botany, Tribhuvan University, Kathmandu, Nepal

Barbara Gravendeel
Naturalis Biodiversity Center, P.O. Box 9517, 2300 RA Leiden, The Netherlands

Pramod K. Jha
Central Department of Botany, Tribhuvan University, Kathmandu, Nepal

Narendra Raj Khanal
Central Department of Geography, Tribhuvan University, Kathmandu, Nepal

Jürgen Kluge
Fachbereich Geographie der Philipps Universität Marburg, Deutschhausstrasse 10, D-35032 Marburg, Germany

Markus Konz, Nadine Konz
Ex Kommission für Erdmessung und Glaziologie, Bayerische Akademie der Wissenschaften, Alfons-Goppel-Strasse 11, D-80539 München, Germany

Gerhard Kost
Fachbereich Biologie der Philipps Universität Marburg, Karl von Frisch Strasse 8, D-35043 Marburg, Germany

Patrick Kuss
Institute of Systematic Botany, Zollikerstrasse 107, 8008 Zurich, Switzerland

David G. Long
Royal Botanic Garden Edinburgh, 20a Inverleith Row, Edinburgh, Scotland, EH3 5LR, UK

Jochen Martens
Zoologisches Institut der Johannes Gutenberg Universität Mainz, Saarstrasse 21, D- 55099 Mainz. Germany

Georg Miehe, Sabine Miehe
Fachbereich Geographie der Philipps Universität Marburg, Deutschhausstrasse 10, D-35032 Marburg, Germany

Laszlo Nagy
Departamento de Biologia Vegetal, Instituto de Biologia, Universidade Estadual de Campinas – UNICAMP, Rua Monteiro Lobato 255, Cidade Universitária "Zeferino Vaz" Barão Geraldo, Campinas – SP CEP 13083-970, Brazil

Marcus Nüsser
Department of Geography, South Asia Institute, University of Heidelberg, Im Neuenheimer Feld 330, D-69120 Heidelberg, Germany

Lars Opgenoorth
Fachbereich Biologie der Philipps Universität Marburg, Karl von Frisch Strasse 8, D-35043 Marburg, Germany

Khum Paudayal
Central Department of Geology, Tribhuvan University, Kirtipur, Kathmandu, Nepal

Colin A. Pendry
Royal Botanic Garden Edinburgh, 20a Inverleith Row, Edinburgh, Scotland, EH3 5LR, UK

Keshab R. Rajbhandari
Ex Department of Plants Resources, PO Box 9446, Kathmandu, Nepal

Sangeeta Rajbhandary
Central Department of Botany, Tribhuvan University, Kathmandu, Nepal

Richard Ree
Integrative Research Center, The Field Museum, 1400 S. Lake Shore Drive, Chicago, IL 60605 USA

Joachim Schmidt
Lindenstrasse 3a, D-18211 Admannshagen, Germany

Dietrich Schmidt-Vogt
Mountain Societies Research Institute, University of Central Asia, Bishkek, Kyrgyzstan

Mike Searle
Department of Earth Sciences, University of Oxford, South Parks Road, Oxford, OX1 3AN, UK

Ulrik Søchting
Section for Ecology and Evolution, Department of Biology, University of Copenhagen, Universitetsparken 15, Building 3, 2100 Copenhagen Ø., Denmark

Abishkar Subedi
Centre for Development Innovation, Wageningen University and Research Centre, P.O. Box 88, 6700 AB Wageningen, The Netherlands

Mahendra Subedi
Ex Department of Plant Resources, Kathmandu, Nepal

Will Tuladhar-Douglas
School of Divinity, History and Philosophy, King's College, University of Aberdeen, Aberdeen AB24 3UB, UK

Mark Turin
Department of Anthropology, University of British Columbia, 156 Buchanan E, 1866 Main Mall, Vancouver, British Columbia, V6T 1Z1, Canada

Mark F. Watson
Royal Botanic Garden Edinburgh, 20a Inverleith Row, Edinburgh, Scotland, EH3 5LR, UK

Johannes T. Weidinger
Erkudok Institut/K-Hof-Museen Gmunden, Kammerhofgasse 8, A-4810 Gmunden, Austria

Erik Welk
Institut für Biologie  der Martin Luther Universität Halle-Wittenberg, Am Kirchtor 1, D-06108 Halle (Saale), Germany

Daniel Winkler
Mushroaming LLC, Kirkland, Washington, USA

Roland Zech
Geographisches Institut, Universität Bern,Hallerstrasse 12, CH – 3012 Bern, Switzerland