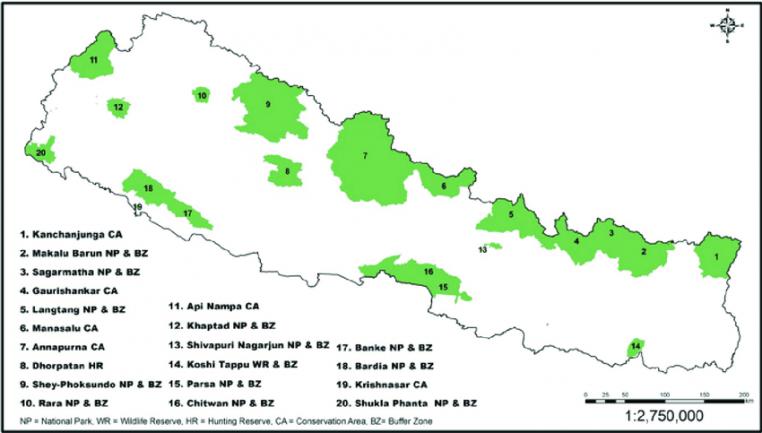 However, it is recognised that the network of protected areas needs to be extended, particularly for the ecologically important Mid Hills where only 1.4% of the land surface is currently included in a protected area. The Mid Hills have the greatest ecosystem diversity in Nepal, but this is under great strain as these lands support about 45% of the population, and the remnants of relatively undisturbed areas are seriously threatened. Initiatives with China and India for the development of a transboundary protected area system are also under way (e.g. around Kanchenjunga, see ICIMOD website), with the view to support corridors and connectivity between protected areas
The first protected area in Nepal, Royal Chitwan National Park, was established in 1973 and since then the Government of Nepal has successfully developed a network of protected and conservation areas which cover about 16% of Nepal (see Protected Area table in
Fact File
). This network comprises eight other National Parks (Khaptad, Langtang, Makalu-Barun, Rara, Royal Bardia, Sagarmatha, Shey-Phoksundo, and Shivapuri), three Wildlife Reserves (Koshi Tappu, Parsa, and Royal Shukla Phanta), three Conservation Areas (Annapurna, Kanchanjunga, and Manaslu), and the Royal Dhorpatan Hunting Reserve. The international importance of Sagarmatha National Park and Royal Chitwan National Park has also been recognised by their designation as
World Heritage Sites
in 1979 and 1984, respecitively. Koshi Tappu Wildlife Reserve was declared a
Ramsar
site (wetland of international importance) in 1987. These protected areas are very important for conservation efforts in Nepal, as 80 of the 118
ecosystems
identified in Nepal are included within them.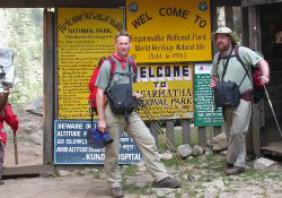 The administration and management of protected areas is undertaken by the Department of National Parks and Wildlife Conservation (for Annapurna and Manaslu Conservation Areas the direct management is by a national NGO - the King Mahendra Trust for Nature Conservation, KMTNC), and they are guarded by the Royal Nepalese Army. The main objective of the protected areas is to maintain plant and animal diversity within their natural habitat. Originally management systems were based on the Western model of national parks which did not consider the social aspects. This led to several conflicts of interest with the people living in and around the protected areas. New models of protected area management have now been developed, where the army is less involved, and a balance is struck between local and national needs. These new models now include cultural aspects and a participatory, community-based approach is taken where local people are engaged in many areas of conservation management. Since 1999, the successful development of buffer zones around park boundaries has been crucial for this, In buffer zones development is jointly initiated by the park management and local people.
Management plans have been developed for some protected areas (including Royal Chitwan NP, Langtang NP, Royal Bardia NP, Parsa WR and Koshi Tappu WR) and these now require effective implementation. Management plans for the other protected areas need to be produced or upgraded. Examples of successful in-situ conservation of threatened and endemic plants within the protected areas network include:
Tetracentron sinense (IUCN endangered species) and several Rhododendron species in Makalu-Barun National Park;
Larix himalaica (IUCN threatened species) in Langtang National Park;
Dalbergia latifolia (IUCN threatened species, and valuable timber tree) in Parsa Wildlife Reserve;
Pterocarpus marsupium (IUCN threatened species, and highly valued medicinal plant) in Royal Shukla Phanta Wildlife Reserve;
Gnetum montanum (IUCN endangered species) in Royal Chitwan National Park and Seduwa in the low altitude Arun Valley in Makalu-Barun National Park.