Rainfall, winter snow, temperature, aspect and altitude have a profound influence on biodiversity and the composition of the vegetation in Nepal. Nepal has a monsoon climate, dominated by an extended wet season starting in June with the arrival of the South-west Summer Monsoon. The High Himalaya range retains the moist air masses of the monsoon, increasing precipitation in Nepal and keeping the areas to the north in deep rain shadow. These same mountains also act as a barrier to the cold fronts from central Asia, giving warmer winters to Nepal and northern India. Temperatures can vary widely because of the great altitudinal range, from tropical in the Terai to arctic in the high Himalaya. In the Terai the mean winter daytime temperatures are between 22 and 27°C, whilst summer temperatures exceed 37°C. Higher up in the Mid-Hills temperatures are between 12 and 16°C, with a general temperature decreases of about 6°C for every 1000 m gain in altitude. Deforestation, industrialisation, and urbanisation have increased temperatures in recent years, as has global warming (see
conservation
). Aspect also has important effects, as north-facing slopes receive much less solar radiation than those facing south. The deep river valleys create their own microclimates, and dramatic changes in the
vegetation
can be seen in relatively small areas with differing aspect and altitude.
Rainfall - varies greatly across the country with the general trend of wetter conditions in the east (Taplejung, 1768 m altitude, receives an annual average rainfall of 2024mm) and drier in the west (Baitadi, 1635 m, receives 1037 mm). The average rainfall in Nepal is about 1600 mm, with about 80% of falling between June and September (above 5500 m this falls as snow). The southern slopes of the Himalaya receive the highest rainfall (3477 mm in Pokhara, 850 m; 5550 mm in Lumle, 1642 m), whilst the trans-Himalaya lands north of the main Himalayan range (Mustang, Dolpa, Manang and Jumla) are in rain shadow with a desert-like barren tundra, barely getting 250 mm of annual rainfall (Jomsom, 2650m, receives 255-295 mm).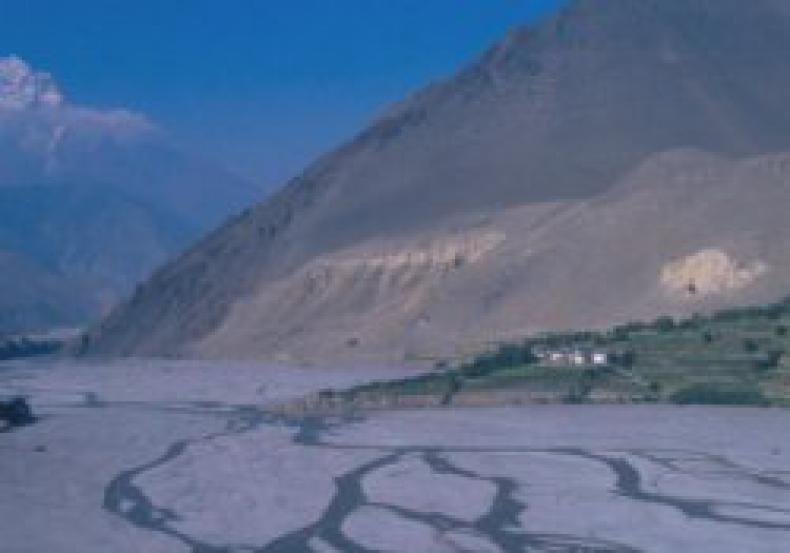 Precipitation is greatly influenced by the prevailing wind systems which are northeasterly in the winter and southwesterly in the summer. The winter winds bring cold, dry airstreams from central asia, in marked contrast to the warm, wet air masses from the south bringing the summer monsoon. The monsoon is the name given to the heavy rains from storm clouds that originate far to the south in the Bay of Bengal. In the pre-monsoon months of March, April and May the season is hot and dry. A wave of humid air reaches Nepal at the beginning of June, the rains come and they last until the end of September or middle of October. About 80% of Nepal's rain falls during the monsoon. As east Nepal is closer to the Bay of Bengal, the monsoon arrives there first and more rain falls here than in the west (winter rainfall is more common in the western hills). As the rain clouds pass up and over the mountains most of the precipitation is generally shed on the southern slopes, and the northern slopes experience rain shadow to varying degrees. The months from October to March are generally dry and cold. Nepal also recieves a small ammount of winter rain during January and February, most commonly in the western hills. In some local areas (e.g. the Upper Bheri Valley to the north of Dhaulagiri) the winter rains are significant and produce a mediterranean-like micro-climate.